Learn about the Administrator account level access
Administrator
Account Administrators are the primary authority of your account and have access to a range of additional options on the left Menu Panel of their dashboard.
Admins can also view, edit or moderate all of your ClassView sessions scheduled across your organisation directly from the Dashboard.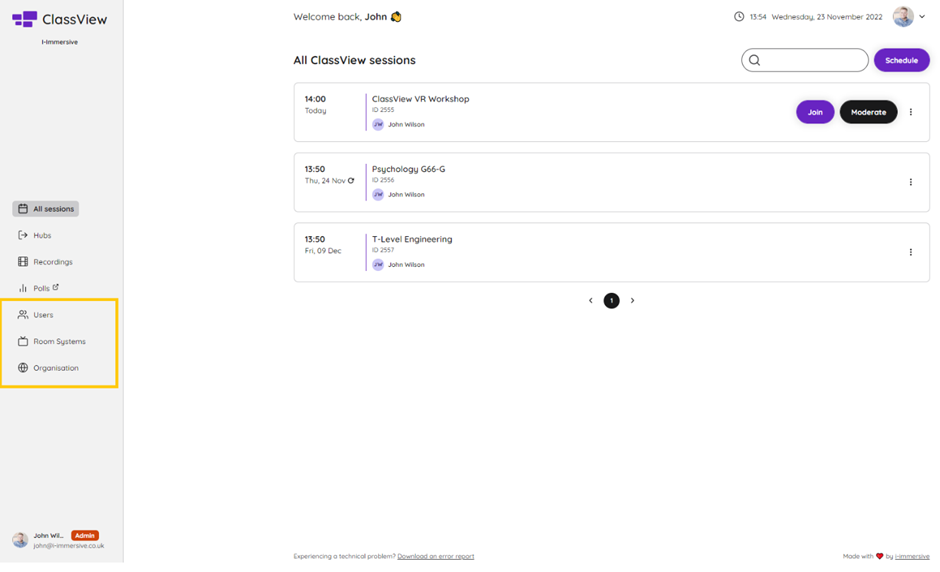 Organisation Dashboard
The Organisation Dashboard is a central hub for the administration of your ClassView service. From this page, you can view services available for your account,
Edit your organisational profile – add or updated your information and contact details and add your institutional logo to apply personalised branding across your ClassView service.
Manage users and connections (see 'Connections' section).
Run reports for your own organisation or any of your child organisations (requires SuperOrg level account)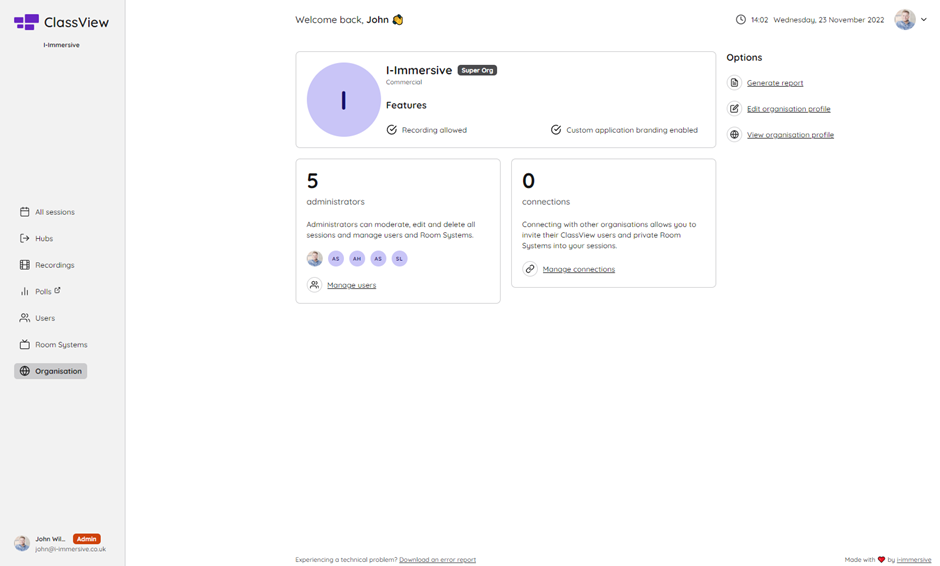 Reports
Admins have the ability to generate and export a range of usage reports to help you understand how your organisation is using ClassView.
To generate a Report simply select the Reports option from within the Organisation dashboard.
Select the specific start and end date you would like the report to reflect.
Next select the reports you would like to generate. You can select multiple reports at one time.
Select Generate The report can then be instantly downloaded in Excel or shared via email.
Options include
Total number of sessions per Day
Total number of participants per day
Concurrent lines per day
List of scheduled Sessions
Organisations
SuperOrg level account subscription only Admins can register and manage Child Organisations under their Parent Organisation. Only Admin level account holders can manage Child Organisations.
To view and manage registered Child Organisations, select the Organisations section within the Organisation Dashboard.
Once selected you can view all registered child organisations.
Select the relevant organisation and then the X in the far right corner to delete
When a user creates a new Child organisation you will receive an email notification. Once approved the requester will receive a notification email that the request has been approved.
Connections
ClassView allows you to connect to other registered ClassView Organisation or child organisations. Once you have connected this enables you easily invite their registered users or room-based systems to a scheduled ClassView Session.
Select Connections to view a list of all Connected Organisations and approve pending requests.
As Admin you will receive an email notification of the Connections
Once approved the Admin of the Connected Organisation will receive a notification that the request has been approved.
To send a request to another registered ClassView Organisation, search for the desired organisation, click on their name and then 'Add Connection'.
The Account Admin for that organisation will receive a notification to approve or decline your request.
Once approved you will also receive a confirmation notification email and this will be added to you list of connections.

Menu panel on the left
Users
In the Users tab, you will find all Users registered under your organisation, as well as any pending user requests for your Organisation. You can search users by their name or e-mail address.
To view all Users registered to your ClassView account select the Users option in the left menu panel.
As Admin you will receive an instant email notification of the new user request.
To Approve pending new User requests select the arrow.
Once approved Users will receive a notification that the request has been approved.
To promote a user to an admin or demote them to a host level user by clicking on the arrow.
To delete the selected user just click on the relevant user and then select the delete icon.
Once signed in Users can edit their Profile settings in the top right menu bar.

Room Systems
ClassView allows you to invite external Room Systems to your sessions. Once you have registered your Room Systems to your account you can easily invite them to scheduled ClassView Sessions.
Select Room Systems on the left menu panel to view and manage registered Room Systems.
For a full overview of how to add Room Systems to your account read our article here How to add Room systems to your account

Contact support
Contact our dedicated and experienced support team for any ClassView related support enquiries.
Call support: 0330 053 1700
Email: support@classview.com