If you or another participant has scheduled a session using ClassView, you will receive an email invite with the joining details. This email will include a link to join the session via your browser.
Opening this link will open a new window and give you the join options, select 'Join from your browser'.
If you are not logged into ClassView, you will need to enter your name before you can join the session.
You may need to grant permission for ClassView to access to camera and microphone. A pop up window will appear to allow to you accept this.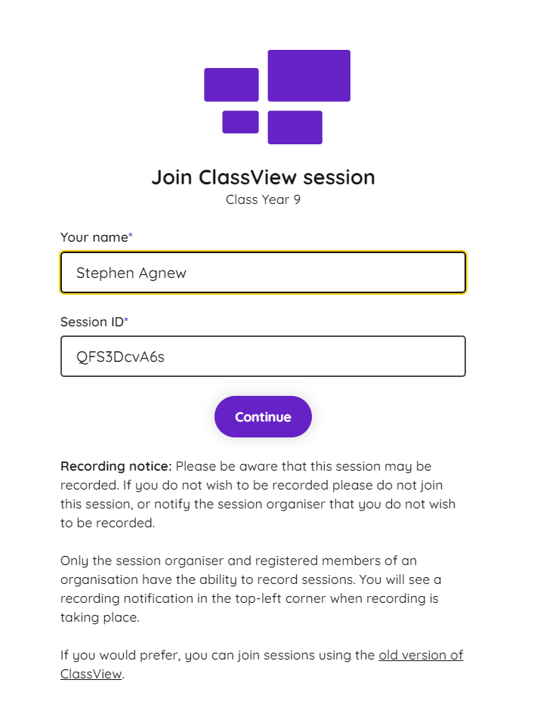 Mute: Allows you to mute/unmute your microphone.
Turn off: Allows you to turn your camera on/off.
End call: Ends your meeting. You will be asked if you would like to end the call for everyone or just yourself.
Raise hand: Notify the moderator you would like to contribute to the class/meeting.
Whiteboard: Open the interactive whiteboard.
Share: Share your whole screen or an application with all participants.
Record: (Owner/Moderator only) Start/stop the recording of your session.
Chat: Open the chat window to communicate with participants.
Participants: View all participants and room systems in the call.
Settings: Allows you to change the device settings (microphone/webcam/speaker) and also theme (light/dark).

ClassView In-Call Notifications
Throughout your session you may see notifications appear in the top letterbox.
These include:
Raised hand - One of your participants have selected the Raise Hand Option.
Extend meeting notice - You can extend your session by selecting Settings.
This call is being Recorded - All participants will see this notification if Recording is activated during the session.
Feedback - There is also a feedback button available in the settings menu. Feedback allows us to deliver a service that meets and exceeds the expectations of our users. Please do leave feedback whenever possible.
Do you need to check Browser Requirements?
Contact support
Contact our dedicated and experienced support team for any ClassView related support enquiries.
Call support: 0330 053 1700
Email: support@classview.com