Learn how to set up a Scheduled session using ClassView and what optional settings are available.
Schedule a ClassView Session
You can schedule a ClassView session by selecting the Schedule button at the top right of your Home page.

Once selected, you can add further information to tailor your invite; the title of your session, a description or note for the users taking part in the meeting, the date you would like to schedule your session for, as well as the start and finishing time. This information will populate in the invitee's calendar and email invite.

Next invite Guests Outside your Organisation and/ or ClassView Members of your account and any ClassView Pods.

Outline of invite options below
Guests Outside your Organisation: Anyone can be invited to join a ClassView Session. Invite guests you would like to participate in the session, by entering the email address. Guests receive an invitation via email.
ClassView Members: Invite Registered ClassView Members that you would like to participate in the scheduled session by entering the name, the user will populate in the field, then select the ClassView Member.
Session Moderators: Session Moderators are given the ability to manage the meeting; they are able to call registered room systems into the session, invite new guests and manage participants live in session.
Room Systems: Add registered Room Systems or ClassView Pods to the session, that will be automatically dialed in, when your session is set to start. Untick Auto dial out option if you would like to dial in manually.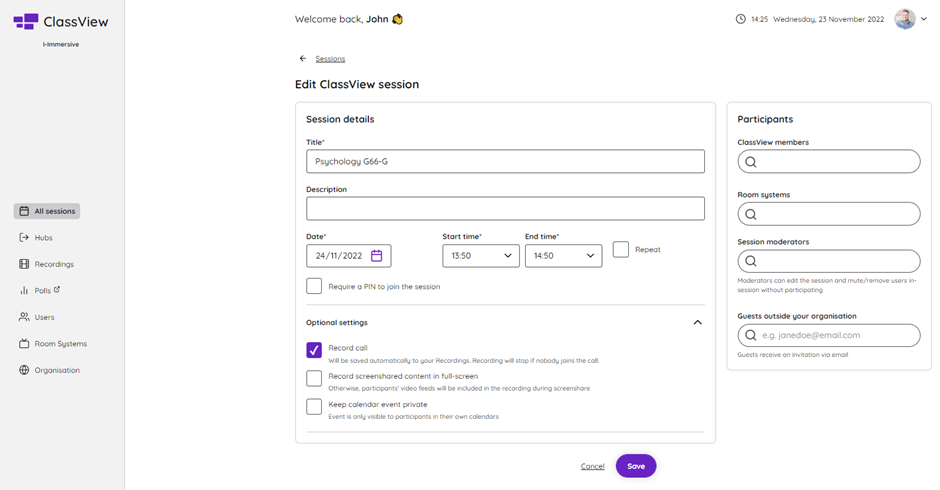 4.
Optional Settings: Select the tab to open the Optional Settings available when setting up a Scheduled ClassView session.
Outline of Optional Settings below
Repeat: by selecting Repeat, you can set your scheduled session to recur.

Options include Daily, Weekly or Monthly, the date that the repeated session will end on and how many repetitions of the session you would like.

Keep Calendar event Private: Sets the calendar invitation to private, so other members of your organisation cannot see the session details when using shared calendars.

Require a PIN to join the session: When selected you can add an extra layer of security to your session with a four number pin. Participants receive the PIN in their invitation email and will be required to enter before being allowed to enter the session.

Record Call: Selecting this box will enable Recording of both audio and video in your meeting.

Recording: will automatically stop 1 minute after the scheduled meeting time if nobody joins the session.

The recording cannot re-start. Ensuring that invited users attend the session on time will avoid this, or alternatively do not select Record here, but simply enable recording when in the session instead.

Record content full screen: Select the Record option to enable this option. Participant video tiles will not be recorded.
5. Once you have completed everything, select
Schedule Session.
All invitees will receive an email invitation and the scheduled meeting will be in their calendar.
Contact support
Contact our dedicated and experienced support team for any ClassView related support enquiries.
Call support: 0330 053 1700
Email: support@classview.com