Learn how to Add Room Systems and ClassView Pods to your account.
Room Systems
Account Admins have the ability to Register and remove Room Systems including ClassView Pods registered to your ClassView account. Once registered they can be easily added to Scheduled ClassView sessions and set to Auto Dial out.
To View your registered Room Systems first select the Room System option on the left menu panel.
Room Systems can be filtered to display all Public

Room Systems or only your

Organisation's systems by selecting Public or Organisation.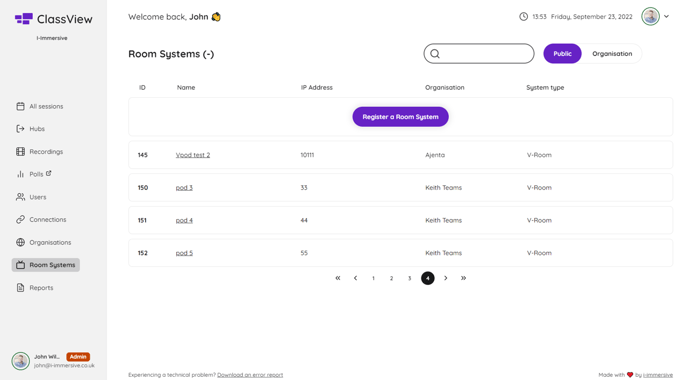 How to add a Room System to ClassView
To add Room Systems, first select the option in the left menu panel.
Next select Register a Room System then complete the required information.

Room System Name - Please name your Room System after a room in which its operating. Remember you can use spaces.

Select your Connection Type e.g. ClassView Pod, h323/SIP.

- IP Address example 123123@Classview.com

- SIP – SIP address example – 123123@Classview.com

- ClassView Pod – Room Extension No. Example – 123123


Extension number -
Privacy Level

- Private means only those in your organisation can see and invite your Room System to ClassView sessions.

- Public means other ClassView external organisations can add your Room System when scheduling a ClassView session.
Email Address - Enter the email address you would like to associate to your Room System. All invites for Scheduled ClassView Sessions involving this Room System will be sent to this address including joining details to dial into the session.
Once you have entered all the required information, select Register to complete the registration.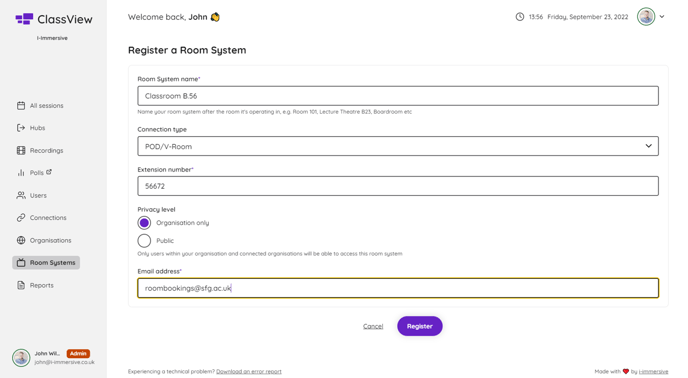 Contact support
Contact our dedicated and experienced support team for any ClassView related support enquiries.
Call support: 0330 053 1700
Email: support@classview.com